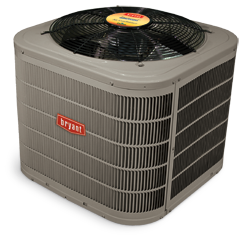 Choosing an air conditioner is not as simple as picking the one with the right price. There are many different aspects to consider. Too many, you might think. Luckily, we're here to help.
You'll be pleased to know that new air conditioning units are much quieter and more efficient than units as little as 10 years old. That means your cost savings over the season can be tremendous– if you get the right system.
The Right Air Conditioning Unit Is The Right:
Size. Too big and it will cycle off and on too quickly. Too small and it will work too hard and make the condenser freeze up. Each unit has a recommendation of how many square feet it can service. Use that number as the first filter in your research

Efficiency: It can be hard to for consumers to understand how efficient a unit is. That's why we have something called a SEER (Seasonal Energy Efficiency Ratio) number, to give you a rule of thumb. 13 is a good number, but higher is better.

Filtration level: If you have family members with asthma or allergies, you might want a system with a high MERV (Minimum Efficiency Reporting Value) rating. And maybe a hepa filter. A MERV rating of 8 is standard, so go higher.
There are so many units and brands out there, you might want to simply call Air Handlers OBX and ask us what we would suggest. We know A/C units, inside and out. We'll take all these factors into account and give you a few recommendations.

Air Handlers OBX: Your air conditioning expert in the Outer Banks. Call Us At: 252-491-8637.