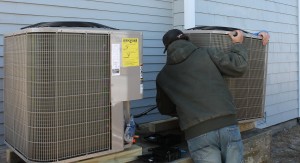 The time has come. You've decided to bite the bullet and have your HVAC system replaced in your OBX home. It's a big investment, we understand. And a lot of our clients feel more at ease when they understand exactly what the HVAC system installation process is going to be like, so we're here to help.
First Steps
As we leave our Outer Banks, NC shop, we'll give you a call to let you know we're on our way, so you know exactly when we'll get there. It takes 2-3 people to do a basic installation, so when we pull up, the lead technician will introduce himself and the crew, and while they're hauling in tools and laying down drop cloths to keep the floor clean, the lead tech will walk you through exactly what they're going to do, outlining all the New HVAC ystem installation process steps and what you can expect.
Before we can replace the old unit, we have to take out the old one. This is a multi-step process that involves recovering the coolant, removing the wiring and thermostat, and finally, taking out the machines.
Prepwork
After the old unit is hauled out, the site gets cleaned and assessed. Sometimes the interior space has to be retrofitted to allow for the new unit, so we do that. Same with the outside space. If the old slab is no longer level, we make it level. If the new unit has to be taken apart in order to fit it into the crawlspace or attic, we do that as well.
When the site is prepared, we install the unit and level it. Then we bring the connections up to code, replacing fuses, installing a new disconnect box, a furnace flue, a sediment trap on the gas line, that sort of thing.
HVAC System Testing
Once everything is put together and up to code, then we start testing. First we flush the coolant lines, twice. Then we braze the pipes to make sure there are no leaks. After that we do pressure tests and vacuum tests, and a few other tests depending on the system. The testing process can take several hours, so don't be surprised.
When we're satisfied everything is up to snuff, we'll get everything cleaned up, and then walk you through the jobsite to make sure you're satisfied. Then we'll deal with the paperwork and show you how to use your brand new HVAC system.
Won't it be nice to enjoy a broiling Outer Banks summer with a brand new HVAC system? Call Air Handlers OBX today!