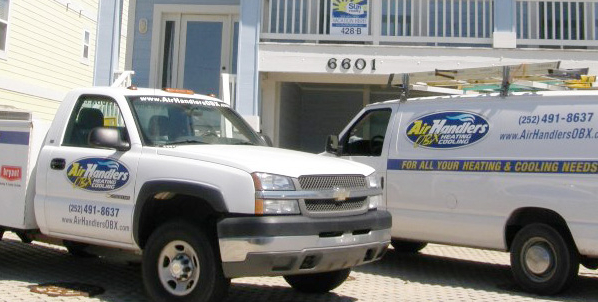 Air Handlers OBX is a local heating and cooling company located in Outer Banks, N.C. Wondering why you should choose Air Handlers OBX over other companies?  Air Handlers is a dependable HVAC company, with more than 25 years of experience in Outer Banks air conditioning and replacement. They not only carry name brand parts, they also carry other quality replacement parts as well. Air Handlers OBX uses innovative technology that allows them to find their closest tech to you so that they can get to you even faster.
Benefits of Choosing Air Handlers OBX
Innovative Technology: Air Handlers uses technology that allows them to find the closest tech to you.This tech also lets them know what your problem is so they can get to you and help you more quickly.
Outer Banks Specialist: Air Handlers OBX  specialize in HVAC installation, service, and repair. They also can repair and replace your plumbing.
Trained and Trusted Employees: The techs at Air Handlers are required to pass pre-employment screenings.These screenings include drug testing and background checks.
Money Saving: Air Handlers does their best to help your system live as long as possible. If your system needs to be replaced, Air Handlers will do what they can to help keep you from having to replace the whole system. Replacing your whole system can get very pricey.
Annual Energy Savings Agreement: With Air Handlers Annual Energy Savings Agreement, they will check refrigerant levels and add R-22 or R-410a as needed, oil fan motors as needed, clean condensate drains, and check accessible duct work. They will also clean and check components in the inside and outside of the units.
Experienced Company: Air Handlers OBX has more than 25 years worth of experience.
Knowledge: Air Handlers' techs have experience with all makes and models of HVAC units. This allows them to be able to help anybody because they specialize in all types of systems, not just one brand.
Availability: Air Handlers OBX has techs available 24 hours a day, 7 days a week, 365 days a year.
OBX HVAC & Plumbing Services
Not only is Air Handlers OBX an HVAC specialist for Outer Banks, N.C. they can also fix your plumbing. With 25+ years of experience in installing, replacing, and repairing HVAC units in Outer Banks N.C., you can be reassured that the job will be done quickly and correctly the first time. So whether you need service done on your heating and cooling system or your plumbing Air Handlers OBX is the company to call.