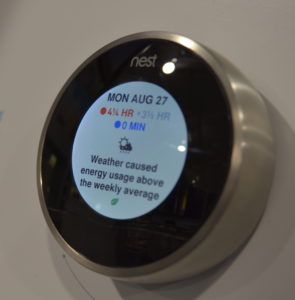 Controlling energy costs can be extremely difficult when you need to be away from home. You want to make sure that your home is protected from damage when it's cold, but you don't want to pay to heat an empty house. Thankfully, there's a solution! A Nest Thermostat controls the heating and cooling of your home and automatically adjusts it when you are away. There are many reasons why absent homeowners should consider installing a Nest System in their home.
Smart Technology
Immediately after installation, the Nest System begins keeping track of when people come and go in your household. Usually before the end of the first week, the Nest will have learned what time to turn the heater on in the morning, what temperature to keep it at during the day and when to turn it up again in the evening.
Eventually, you might find that you want to override or adjust the schedule that your Nest has learned. Unlike older style thermostats that required a lot of programming, the Nest allows you to make adjustments quickly and easily.
Saves Money on Energy Costs
Perhaps the best benefit of the Nest is that it knows when people are home and when they are not. When homeowners are away from home, the Auto-Away feature automatically turns down the heat or air, saving energy and money.
Newer Nest Thermostats have this feature listed as "Eco Temperatures". The main difference between Auto-Away and Eco Temperatures is that Eco Temperatures allows homeowners to manually switch their thermostat to Eco, even when they are home.
Protects Your Home
Home Away Assist is perfect for saving money while you are away at work, school, running errands or on short trips. However, if you are going to be away for a long trip, it is best to set your Nest System to "Off". Doing this will not turn your thermostat off, but it will ensure that your system doesn't heat or cool your home unless your Safety Temperature has been reached.
When set to "Off", the Nest System will not turn your system on when it senses activity in your home such as a neighbor dropping off your mail. However, if the weather gets extremely cold while you are away, the thermostat will automatically turn your system on to protect your home from damage such as bursting frozen pipes. No other system saves you money and keeps your home safe like Nest!
Air Handlers OBX specializes in HVAC installation, service and repair in Outer Banks, NC. Please contact us for more information about installing your nest system today.