If you're like most people on the Outer Banks, you rely on your furnace to keep you warm throughout the winter. Unfortunately, your furnace uses more energy than many of the appliances in your home. If it's not working properly, it could end up costing you a lot of money on your energy bills.
An inefficient furnace will not be able to properly heat your home. As the system works harder to keep you comfortable, it uses more energy. In addition to raising your energy costs, this also causes a lot of wear and tear to your system. Over time, the extra effort can lead to costly repairs and system failure.
It's important to ensure your furnace is working as efficiently as possible. The following tips can help.
Regular Furnace Check-Ups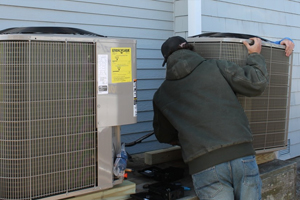 The best way to keep your furnace working properly is to have it checked regularly by a qualified professional. Our HVAC specialists are fully trained to inspect your furnace for any issues that might affect performance. This helps you catch problems sooner, before they are able to affect efficiency.
It's recommended that you have your system checked twice a year. This helps ensure it is in top shape when you need it most.
AFUE Rating
The Annual Fuel Utilization Efficiency (AFUE) rating on your furnace will tell you how well your furnace converts fuel to power. Most furnaces fall within the 80-95% range. A higher percentage indicates a more efficient system. However, even with a very high AFUE rating, a furnace will not work properly if not regularly maintained.
Regular Furnace Maintenance
Accumulation of dirt and debris can lead to system malfunction and failure. It's important to inspect your system's air filters at least once a month. Change the filter if it appears dirty of if it's clogged with dust and debris. Dirty ductwork can also impact performance. Inspect air ducts regularly for dirt build-up.
Air Handlers OBX understands the importance of an energy efficient furnace. We can help you locate ways to improve the efficiency of your system. We offer HVAC installation, service and repairs. Please contact us for more information.