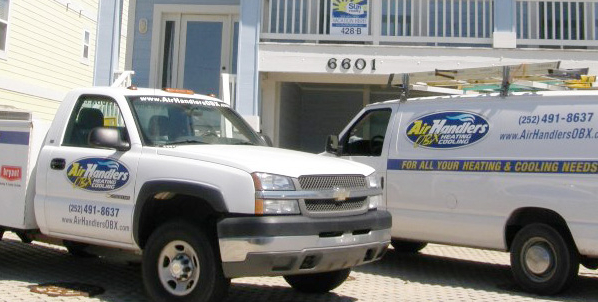 It goes without saying that heating and cooling issues can be stressful for home and business owners. They not only can result in expensive repairs, but if left unattended, health problems as well. With years of experience in the HVAC industry in the Outer Banks community, AirHandlers OBX knows that more often than not, these repairs present themselves at the worst possible times. Fortunately, customers can feel comfortable knowing that our skilled HVAC repair technicians are available for assistance 24/7 for emergencies. Regardless of whether it is a holiday weekend or late at night, AirHandlers OBX is here to help clients solve crucial home improvement problems at any time.
Our skilled team and support staff all reside in Dare County or Currituck County, so we are fully aware of the unique challenges that home and business owners in the Outer Banks are faces with. Being the #1 trusted heating and cooling company in the OBX, we make quality and professionalism a top priority for every project that we are hired for. Every member of our dynamic team is required to have significant hands-on training and pass pre-employment screening including criminal background checks and drug tests.
Outer Banks HVAC Repair Available 24/7
AirHandlers OBX takes our relationship with customers very seriously and are committed to fostering long-term, trusting relationships with every client. Those who hire us can rest assured knowing that they are getting superior products and the highest quality professionalism from our team at all times. Our knowledgeable technicians will analyze every possibility and diagnose the problematic areas in one's HVAC system. Should the current system require repair or replacement, AirHandlers OBX will offer effective solutions that eliminate the hassle and worry for property owners. We boast great experience working with a variety of models and makes of heat pumps, furnaces, air conditioners, boilers, and indoor air quality products, giving us the ability to help clients extend the life of their current systems. By offering 24/7 emergency repair and replacement services, AirHandlers OBX ensures that clients feel comfortable at all times inside their home or business.
No matter the type of repair or replacement project at hand, AirHandlers OBX can offer a solution that fits the clients structural needs and budget. Our highly trained contractors are available to provide emergency services 24/7/365 to tackle the most serious problems, including:
Water Heater Emergencies
Toilet or Sink Leakage
Boiler Repairs & Replacement
Damaged Water Pipes
Malfunctioning Furnace
Clogged Sewer Lines & Pipes
Contact Us For The Best Emergency Repair Services on the OBX
Boasting a significant professional background in the home improvement industry, AirHandlers OBX is dedicated to providing prompt and effective service to those within the Outer Banks residential and commercial community. As no time is really the best time for a HVAC system to break down, our skilled repair contractors make it a top priority to assist customers when they need it the most. Regardless of the weather outside or time of day, Air Handlers OBX prides ourselves on offering replacement and repair services that clients can rely on. Every one of our staff members are equipped with state-of-the-art technology that allows us to respond to service calls more efficiently than ever; thanks to Smart Service Manager, our technicians receive emergency repair requests right to their iPhone! To get more information on our top HVAC emergency services or to schedule a free consultation, call us at 252-491-8637 today. Don't hesitate to ensure that everyone inside your home or business is safe and comfortable, reach out to Air Handlers OBX today!